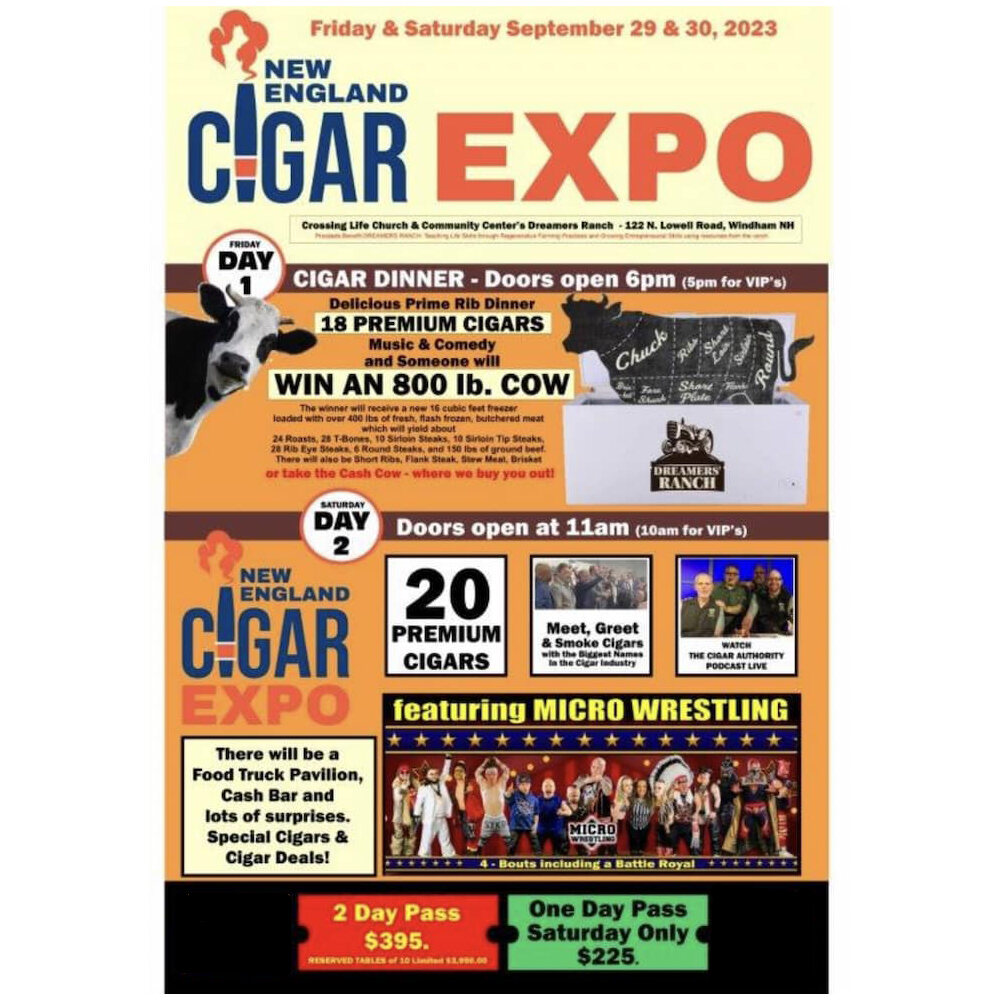 The New England Cigar Expo
WHEN: Friday & Saturday – SEPTEMBER 29 & 30, 2023
WHERE: Crossing Life Church/Dreamers Ranch – Windham, New Hampshire
Dreamers Ranch is New Hampshire's largest outdoor tent facility and a working cattle farm, located just minutes north from Two Guys Smoke Shop's Salem NH location.
Day 1 Begins On Friday September 29, 2023, beginning at 6pm, The New England Cigar Expo's Opening Night Cigar Dinner begins with some of the biggest brands and people in the cigar industry including:
Nelson Alfonso from Byron Cigars
Jorge Padron from Padron Cigars
Oliver Nivaud from United Cigars
Jose Dominguez from Jose Dominguez Cigars
Nick Perdomo from Perdomo Cigars
Carlos Guillermo Gonzalez from YaYa Cigars
Rafael Nodal from Aging Room Cigars
Eric Newman from Diamond Crown Cigars
Christian Eiroa from CLE Cigars
Rocky Patel from Rocky Patel Cigars
Justo Eiroa from Aladino Cigars
Terence Reilly from Aganorsa Leaf Cigars
Tony and Carson Serino from Serino Cigars
Nestor Miranda from Nestor Miranda Cigars
David and Gianna Garofalo from Garofalo Cigars
Litto Gomez from La Flor Dominicana Cigars
Johan Zwaan from Davidoff Cigars
Glen Case from Kristoff Cigars
Rick Rodriguez from West Tampa Cigars
and even some surprise guests expected…
Roast prime rib dinner will be served, live music, comedy, and a game show event where someone will win an 800-pound cow. No, you won't be handed the rope attached to a cow, but a new 16 cubic foot freezer with fresh, flash frozen, butchered meat which will yield about 24 Roasts, 28 T-Bones, 10 Sirloin Steaks, 10 Sirloin Tip Steaks, 28 Rib Eye Steaks, 6 Round Steaks, and over 150 pounds of ground beef. There will also be Short Ribs, Flank Steak, Stew Meat and Brisket. WAIT – But that's Not all!
On Saturday September 30th, Day 2 of the New England Cigar Expo begins at 11am with a Meet & Greet with the biggest names in the Cigar Industry, a live broadcast at 12 noon of The Cigar Authority Podcast, live music, comedy, a food truck pavilion with some of the best local food trucks around and cocktails available.
Wrapping up the event at 4pm on Saturday will be a LIVE Micro-Wrestling show, yes (little people wrestling) with play by play announcing by some great comedians. "I think this is going to be a lot of fun and talked about for years to come" said Garofalo, "this will be our first attempt at a 2-day experience, but I expect non-stop enjoyment throughout the two-day Expo. Getting cigar smokers together to enjoy premium cigars is always a great time."
This two-day event is the first of its kind in the New England market, bringing cigar smokers together with various experiential activities throughout the weekend.
Each guest will receive 38 cigars with the 2-day pass or 20 cigars with the Saturday only 1 day pass. VIP ticket holders will also have access to early entrance and goodies including an after-hours event on Saturday night.
Please Note: The 1 Day Ticket is the Saturday Event ONLY!