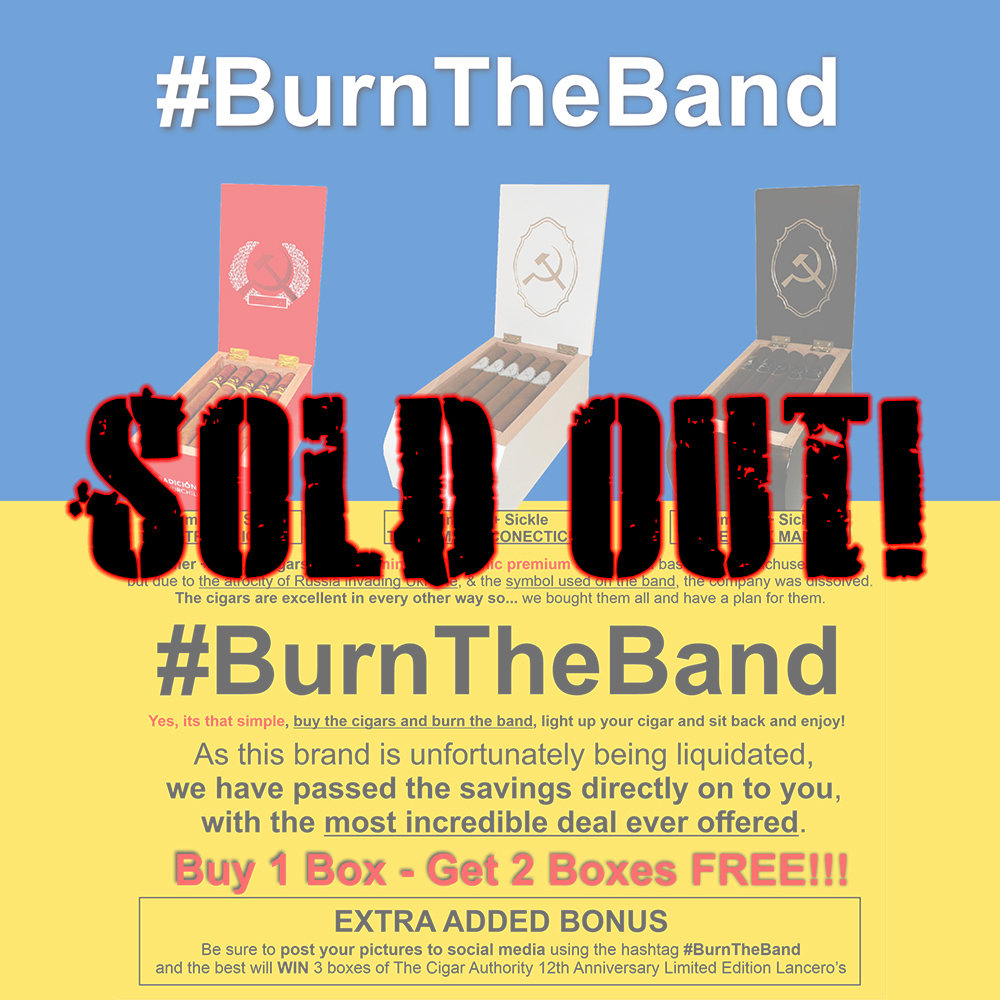 Hammer + Sickle cigars is and always was a USA Company, based in Massachusetts and owned by Americans. They were never a Russian company. When the events overseas unfolded the company issued a strong statement condemning the violence against the Ukraine.
The company is a casualty of war and was dissolved in early April. We stepped in to help them by buying their remaining inventory and we have created the #BurnTheBand campaign.
Join us as we Burn the Band. Share your pictures on social media using the hashtag #BurnTheBand and we will choose one image that we vote the best to win 3 FREE boxes of The Cigar Authority 12th Anniversary Lancero.
Buy any box of the following lines and you will get 2 boxes FREE.
That brings the cost down as low as $2.74 per cigar!
Trademark Series:
The Trademark Natural is comprised of a proprietary blend of Dominican tobaccos aged three to five years, that unite to provide a truly flavorful mild cigar experience.
The Trademark Maduro is constructed of the same binder and fillers, but it is finished with a San Andres Maduro wrapper.
Pure, crisp and clean with just the right amount of aging. Trademark is a must have for the cigar enthusiast who understand the complexity of mild cigar and can appreciate and enjoy the nuanced flavors of Connecticut Shade and San Andres tobaccos.
Tradición Series:
Hammer + Sickle Tradition Serie is a hand furnished blend of thee-year old Dominican tobaccos rolled within a breathtaking 5-year aged Connecticut wrapper. A rich and creamy smoke, this cigar walks the line between mild and medium bodied with great leather and rare spice notes throughout. The Tradition Series is exceptionally smooth, with subtle hints of pepper while coating the palate with a creamy richness. Hammer + Sickle Tradition delivers a smoking experience befitting the most astute cigar lover.
*offer may not be combined with other offers.
SOLD OUT
*Deal does not include the Hammer & Sickle Collection 4pk