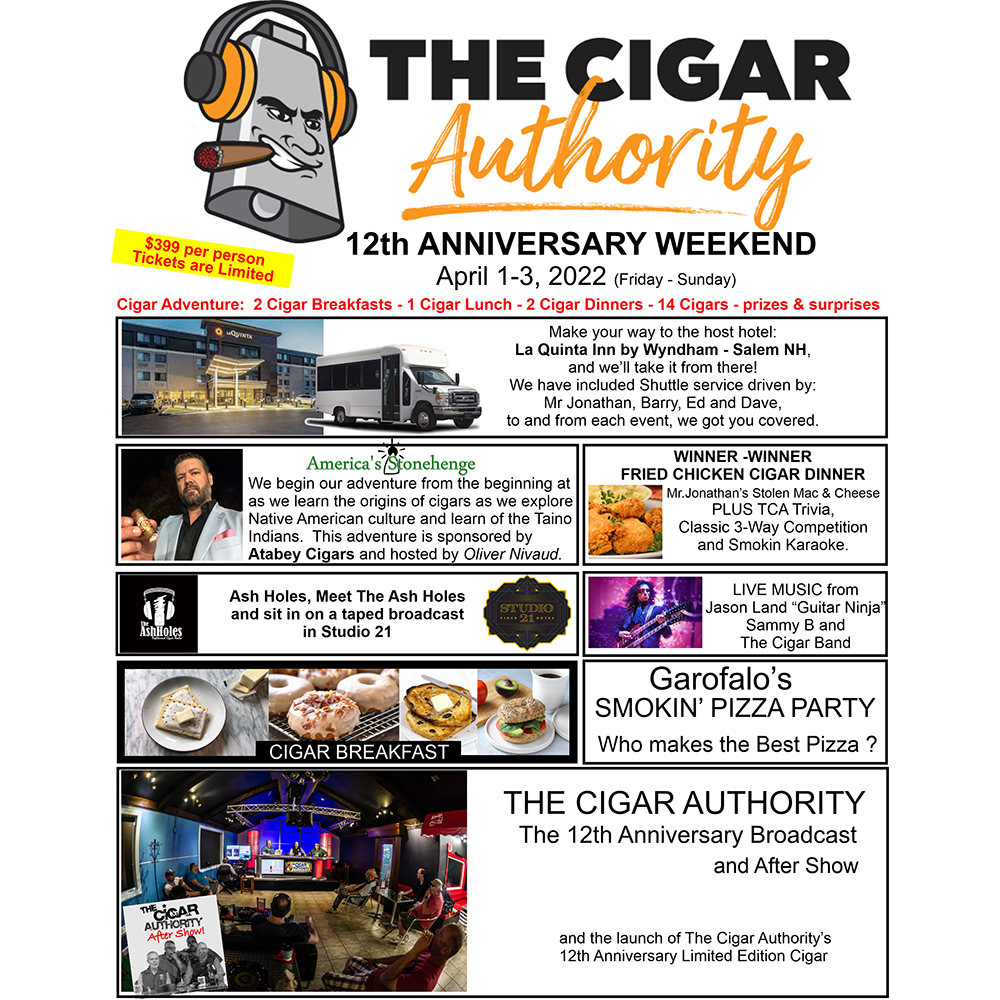 IMPORTANT: When signing up, please add a comment with your shirt size
It's the 12th Anniversary Party weekend for The Cigar Authority. Join us April 1st - 3rd for this weekend of celebration featuring cigars, food, laughs and so much more.
Airfare & Accomodations Not Included.
The Cigar Authority's 12 Year Anniversary Weekend Celebration 2022
Friday April 1, 2022 – Sunday April 3, 2022
THIS WILL BE A CIGAR ADVENTURE
2 CIGARS BREAKFASTS,
1 CIGAR LUNCH &
2 CIGAR DINNERS,
14 Cigars + prizes and surprises
3 LIVE Broadcasts: The Cigar Authority, The After Show and The Ash Holes.
Visit all (3) Two Guys Smoke Shop locations
Meet & Greet The Cigar Authority, Ash Holes, and meet characters you have heard on the show.
All for just $399 and limited to just 40 people.
Host Hotel: LaQuinta – Salem NH - Shuttle Service from Host Hotel to and from event included.
#1: Buy your ticket to the Event: $399 per person - GO To The Cigar Authority.com
*Does NOT include airfare/hotel or transportation to and from airport
#2: Secure your Hotel Room
ROOM RATES will be $129 + Tax per night per room we will provide a registration code for this rate.
Hotel – LaQuinta – Salem NH (Exit 2 off Rte 93) 8 Keewaydin Dr, Salem, NH 03079 603.893.4722
ROOM BLOCK for Thursday March 31, Friday April 1 and Saturday April 2
You do NOT NEED to book it for Thursday, BUT the 1st event will happen on Friday at 1pm pickup.
If you can fly in, drive in or get to the Hotel by 1pm we will pick you up and take you to the first event:
If you are not there, you will have the itinerary and can meet us at our next stop. We will leave on time.
Schedule
Friday April 1
1pm Shuttle pick-up at the Hotel
There will be 4 Shuttle Vans –that will pick you up and each one of us will be a bus driver.
You will pull from the hat for each trip who you will be your driver (Ed, Barry, Mr Jonathan or Dave)
1pm – 1st stop to America's Stonehenge – Hosted by Oliver Nivaud of United Cigars -
where you will learn the origins of cigars, explore Native American culture & the Taino Indians.
featuring Atabey Cigars, (Rain date April 3 at 1pm)
3 Pick-up and off to Studio 21 for a LIVE broadcast of The Ash Holes at 4pm
Featuring The Guitar Ninja – Jason Land: and Byron Cigar
6 WInNER-WINNER Fried Chicken Cigar Dinner & Mr. Jonathna's Stolen Mac & Cheese Studio 21 Cigars & United Cigars
Followed by: The Cigar Authority Trivia Night, Classic 3-Way Competition
and some Smoking Karaoke.
(Win prizes including a spot on the Classic 3-way on TCA next day)
9 Shuttle pick-up back to hotel
Saturday April 2
8am Pick-up shuttle to Two Guys Seabrook for Cigar Breakfast featuring Butter on a Pop Tart,
Raisin Toast, Donuts… and breakfast sandwiches, coffee, juice, & cigars featuring: La Gianna Natural, La Gianna Maduro, and La Gianna Angelic.
10 Shuttle Pick-up and off to Two Guys Salem
12 LIVE broadcast of The Cigar Authority featuring the launch of TCA 12th Anniversary Cigar and Garofalo Cigar followed by The After Show taping.
2 Cigar Lunch featuring: Smoking Pizza Party featuring Garofalo Cigar different blend
4 Shuttle pick-up to Two Guys Nashua
6 Italian Cigar Dinner featuring Mr. Jonathan's Fried Chicken Cutlets Pam and 4th Place Meatballs: featuring: Abuelo Cigar and advance tasting of the 2022 Firecracker
AND LIVE MUSIC featuring: Jason Land, Sammy B & The Cigar Band
9 Shuttle pick-up back to hotel
Sunday April 3
9am Don't forget to change your clocks forward as daylight saving ends.
Shuttle pick-up to Farewell Breakfast at Two Guys Salem
featuring Mr Jonathan on the grill, Hot cakes, bacon, sausage, and more.
11 Blind Cigar Taste Test
12:30 Shuttle to Hotel of rain date adventure.
You will need to get yourself to the airport (Boston Logan International) or (Manchester-Boston Regional Airport).
Limited to just 40 people total.
Transportation to each of the 10+ events happening in just 48 hours total.
Starts at 1pm on Friday April 1 and its over at 1pm on Sunday.
14 Great Cigars
1 Cigar Lunch
2 Cigar Breakfasts
1 Cigar Dinner
3 LIVE Broadcast tapings
And lots of prizes and surprises
$399
IMPORTANT: When signing up, please add a comment with your shirt size