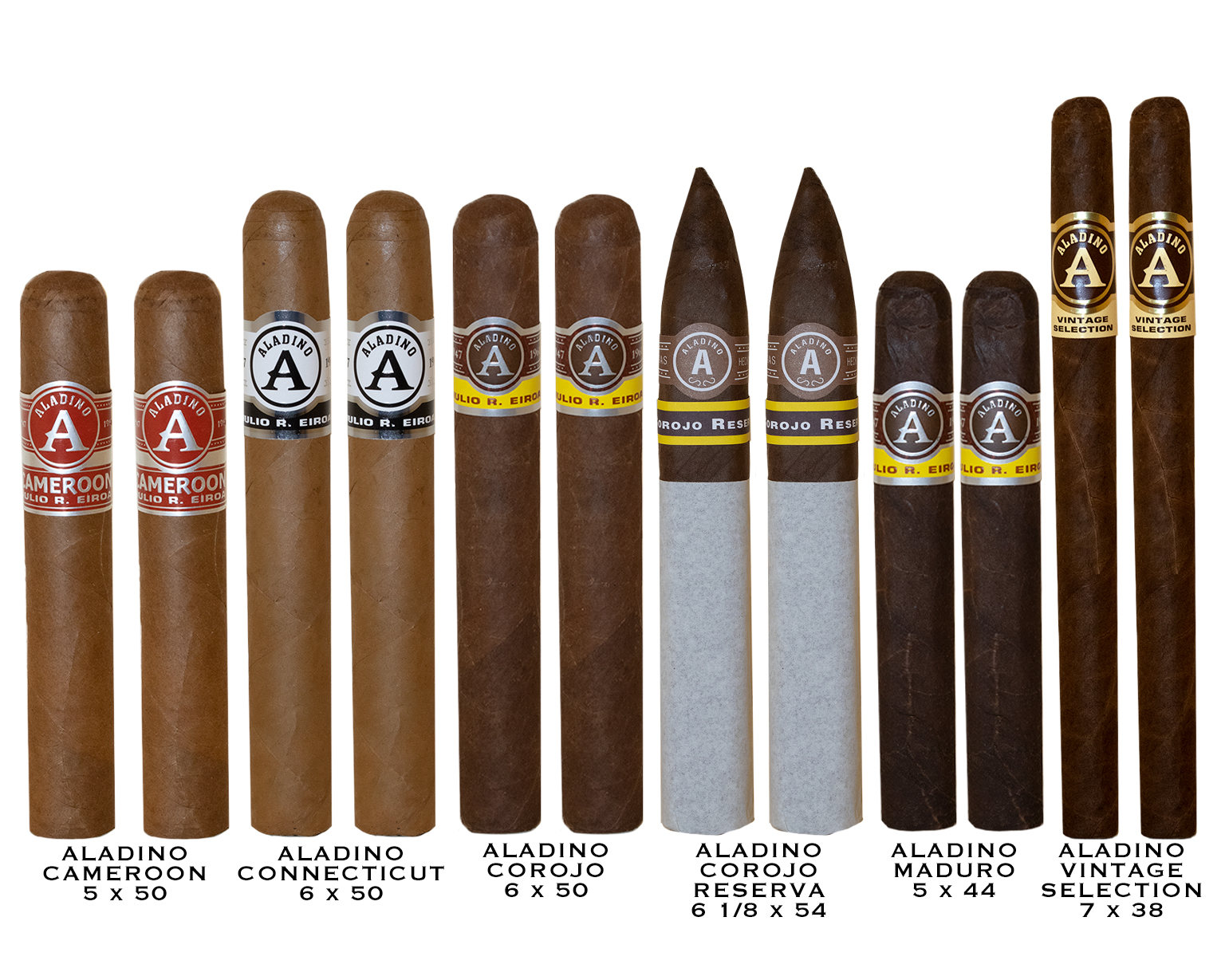 Since their release Aladino cigars have been a dominant brand at Two Guys Smoke Shop. Our own Jessica said we should create a sampler and we did just that. We sat down and looked at each of the lines and picked our favorite sizes that give a great representation of what the brand has to offer.
Included in this 12 cigar sampler, which is only available online, are 2 cigars of each of the following:
Aladino Cameroon Robusto - Featuring a Honduran grown Cameroon wrapper the cigar is smooth and balanced. It delivers the sweetness you expect from the wrapper, with the spice and strength of Corojo in the fillers.
Aladino Connecticut Toro - With a flawless shade grown wrapper over Honduran binder and fillers creating an exceptionally smooth cigar that is mild in terms of strength but full in terms of taste.
Aladino Corojo Toro - The brand that started it all. It's a Honduran puro featuring 100% authentic Corojo tobacco. We were so enamored, with it as were customers, it was named the 2017 Cigar of the Year!
Aladino Corojo Reserva Figurado - The Corojo Reserva is a limited production cigar with only a small amount of boxes made each month. The figurado was released one time in 2021 and features notes of subtle spices, coffee and cedar.
Aladino Maduro Corona - This medium to full bodied cigar featuring a San Andres Maduro wrapper over binder and fillers that are 100% Authentic Corojo. These cigars have notes that consist of a fruit like sweetness giving it a classic Maduro profile with nuances of mocha, coffee, and earth.
Aladino Vintage Elegante - In 2019 Aladino released the Aladino Vintage Selection featuring aged tobacco. According to the company, the cigars are a throwback to the golden era of Cuban cigars and it is hands down our favorite Lancero on the market.
So here is your chance to get this sampler of the best Aladino has to offer.
You can also see a full list of Aladino brands at: https://www.2guyscigars.com/jre-tobacco-brand/