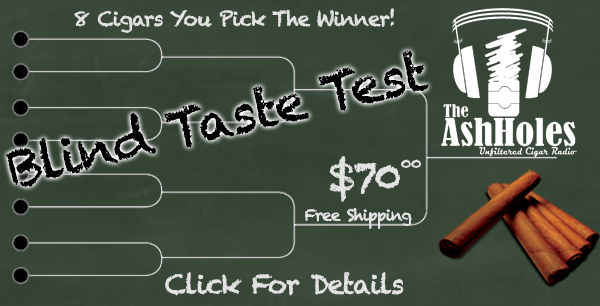 ANNOUNCING THE FIRST EVER – THE ASH HOLES BLIND TASTE TEST
Brought to you by UNITED CIGAR
Oliver Nivaud from United Cigar has been doing Blind Taste Tests across America for United Cigars and has brought The Ash Holes into it. Making it so our listeners can partake in the experience.
Beginning NOW… you can sign up to take the test along with us on The Ash Holes You'll get 14 cigars in all, over 3 shipments, and the cost is just $70 and includes all shipping.
Your credit card will be charged and we will ship you out – ROUND #1 (8 Cigars, labeled #1 - #8) on August 29th (after that it will be too late and sold out) it may be sold out before then so don't wait. We are cutting it off at 200 people maximum.
The Ash Holes Podcast will smoke #1 vs #2 on the Sept 5th (head to head) and #3 vs #4 on the following show and so on till we smoke all 8. Smoke along with us and see which you like better. Participants will have a place to go to vote and on September 26th the winner of #1 vs #2 will become #9. Winner of #3 vs #4 will become #10 and so on till we have 4 cigars, which will be mailed out to you again.
In October we will get to those 2 battles and on October 31, we will again ship out cigars, this time just the 2 winners based on the votes from participants.
All brands and results will be announced on the Nov 21st The Ash Holes Show.
AGAIN - $70 to join the Fun… that's 14 cigars in all in 3 shipments, and all shipping is included. Sign up now before it's too late. Limited to just 200 people or ending Aug 29, whichever comes first. Don't Wait! Do it today.
You can listen to The Ash Holes on iTunes, Podbean, iHeart Radio, Slacker and at TheAshHoles.net